Director reels in West audience with emotional short film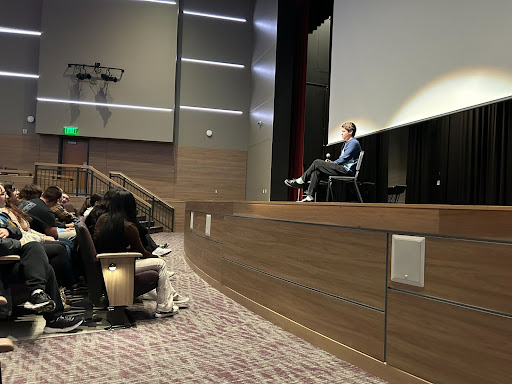 Another exciting opportunity provided itself to Greeley West students on Wednesday when, in collaboration with the University of Northern Colorado, Latinx film director Jefferson Stein visited the school. 
Stein at a young age admitted he loved film, explaining, "When I was six years old I would always run around my house with a big ol' VHS camera."  He expanded his love of film during his high school years, where he signed up for a film club.
The video clip shown was from the short film Burros, where Stein wanted to showcase how language can connect between three different cultures. In the film, a little girl from the O'odham Tribe encounters a Mexican migrant girl named Ena and she becomes friends with her. The grandma of the O'odham girl spoke Spanish and was able to communicate with Ena and assured her that everything would be okay after she had to be taken away.  The final language represented was English, which bonded the two girls.  
Originally Stein said that the movie was completed with a whole cast and crew that hasn't done professional work. Stein said,  "I wanted to film the border situation from a perspective that hasn't been shown." 
Stein also explained that he wanted to showcase a community that hasn't been showcased before. He said he got inspiration for Virginia, the grandmother in the film, from the Mexico-United States border area.  The character was based on a real elderly woman who would tell Stein stories about the region before shooting each day.  
Social studies teacher Ms. Izbeth Pacheco enjoyed the opportunity provided to the students, "This is a way for students to make connections by being able to ask the director about their background. It gives insights on what could be potential steps to being a film director," Pacheco said.
Ms. Bridget Koehler, another social studies teacher, talked about the importance of having these current events portrayed in the form of art and how it can give a whole new insight on how one can see life.  "The human experience, whether good or bad, is art.  You see, biology explains how we come into life, but art expresses how we all live life differently," Koehler said.
Junior Violeta Amuezca shared that watching the clip of the film brought sentiment to her.  "Showing throughout the film how different emotions can be expressed was what caught my eye initially, from the little girls having their adventure to showing the high school kids rapping. I was smiling and laughing," Amuezca said.  "At the part where the grandmother was reassuring Ena that everything would be okay, a tear was brought to my eye because I was able to see my grandmother and be reminded of her in that specific scene."
Overall, this was seen as a wonderful opportunity for Spartans at West hoping to get some insight on what film directing is like.