Girls Soccer gets a kick out of rivalry week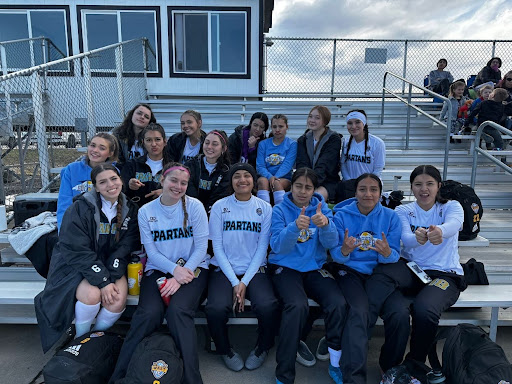 The Greeley West High School Girls Soccer team are set to play their cross town rival, Greeley Central High School, on Wednesday, May 3rd. The Greeley West Girls soccer team has a record of 4-7 this season, with four games remaining to play. The team is likely to beat last year's record of  4-11. 
Senior and Co-Captain Ella Wilcox is ready for the match-up and is anticipating a great game. Wilcox said, "This year, both teams are super competitive and it's going to be a really good match-up. But since it's my senior year, we have to end it off on a high note, so I'm ready to battle." 
Senior Zoe Jamsay stated, "Last year, I remember this game being easy, but this year it has changed a little. But my team and I are still very confident going into this game."
Last year West's Girls team beat Central with a 4-2 score. Wilcox had 2 goals last year against Greeley Central.
Senior and Co-Captain Olivia Pearson said, "I'm looking forward to playing Central's seniors for the last time, after these four years of having great games with them."
Pearson stated, "Our school spirit is very good for these games, so I'm excited for the student section to bring the spirit and make this game ten times better."
This is the last West vs Central rival game of the school year, and the girls are looking to get the win this year to close off a great rivalry year with Central.
Junior and Co-Captain, Caroline Karr said, "This is going to be a very emotional game for me because I've played with the seniors since my freshman year. It's going to be sad to see them graduating and leaving the soccer program."