Land of the Rising Sun #6: A Golden Day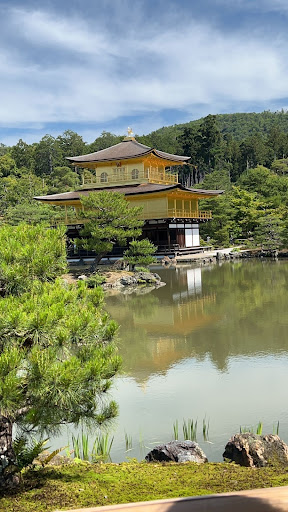 As the weather keeps getting better, today was all about being out and about in Kyoto. Kyoto is famous for being the home of a former imperial palace, the Golden Pavilion, Nijo Castle, and the Arashiyama Bamboo Forest.
We didn't formally visit the imperial palace, but our tour guide, Hiro, told us that Kyoto was the capital until the late 1800's. Luckily, we were able pass the former imperial palace where of course the emperor would stay in his time of reign.
Our first stop was the gorgeous Golden Pavilion. Notable American figures who visited the pavilion were former president George W. Bush and Apple founder Steve Jobs. It's said that Jobs would frequently visit the pavilion to be inspired and look for ideas. I personally think he was taking psychedelics the whole time and was being affected by them. Overall, the pavilion was made out of over two million dollars worth of gold.  This was honestly a let-down to me becuase I thought it would be more expensive.
We stopped at the Nijō Castle where the Tokugawa Shogunate kept a second home. Tokugawa Leyasu was the first Shōgun of Japan. Shoguns and emperors are commonly confused, as they're both high power bosses. To find the difference between the two is that emperors were mainly political figures and Shōguns were generals of the military. The floors were built so they would squeak upon being stepped on with two nails rubbing on each other with the pressure being added on.
Lastly, we visited the Arashiyama Bamboo Forest. Unfortunately, it was packed with a lot of people so we couldn't really stop and take pictures because of the crowded walkways. We were able to stop by the river and we were able to start skipping rocks with some of the locals. I was happy to even get complimented by one of them for the throws. 
As this trip is coming to an end we are down to three days (two because one of them is considered our travel day). We are left with a lot of shopping and walking still – stay tuned for the next writings.