Land of the Rising Sun #9: Our Goodbye is iminenet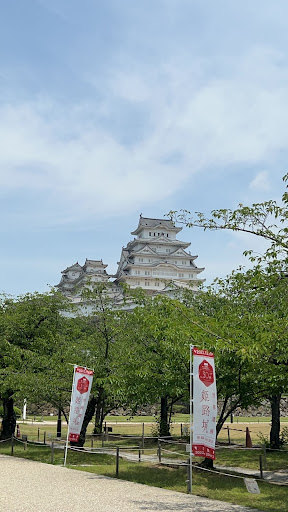 It's now our final full day in Japan. We took a well needed rest and woke up in Hiroshima. Today was more of a travel day as we headed back to Osaka by bus while visiting Himeji Castle as a stop. We also endured our farewell dinner as a group together as again we spent our final 24 hours in Japan.
The day started off with a 3 and a half hour bus ride to Himeji as we went to visit Himeji Castle. The castle in itself was built in 1346 by Akamatsu Sadanori as protection from local shōguns. If I had 1000 yen for every time I bumped my head, I would've become a millionaire today. The castle was not very tall-people friendly as there were very low hanging doorways. Thankfully, a lot of people have bumped their head as the doorways had padding to prevent that. If you were looking to do some tourist cardio, Himeji Castle is the spot to do so, it's very hilly and the castle has very steep steps to climb up to the top.
After our visit to the castle we had a one hour drive back to the hotel where we rested for a bit, and by that we mean we got ambushed by some friends unfortunately. We took a quick rest and then we went out for dinner at a local restaurant. The restaurant truly had some of the best chicken I've had in a while and also had some egg drop soup. During dinner, we celebrated the birthdays of two of our tour group members and decided to give Hiro a parting gift for being such an amazing person to work with.
Tomorrow will truly be our last day as we visit our last castle and spend the last of our money again at Dotonbori.