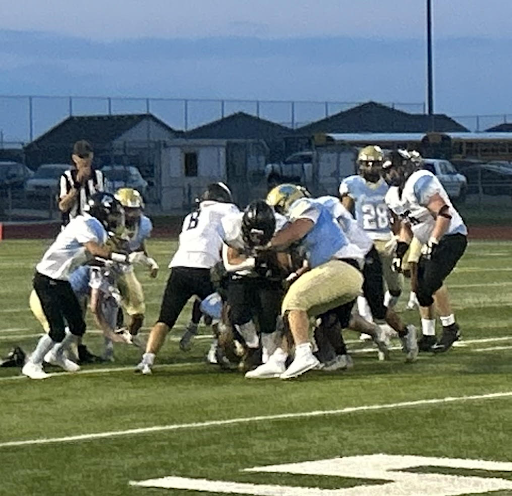 The Greeley West Spartan Football team's defense came out strong and tough on Thursday night at District 6 Field in the team's opening game. After being on the field for most of the game because of a lackluster offense, they crumbled late and dropped the matchup to Mountain Range 9-0.
The Spartan offense fell flat on its face during the game. It started in the first quarter when the Spartans came out flat, earning a 15-yard penalty out the gate for a crackback block on a Julian Salas' quarterback scramble. It only got worse from there. The Spartans ended up punting after gaining 6 yards on their first drive. The Spartans looked dysfunctional coming out of the gate, burning all three timeouts with 8 minutes still remaining in the first half.
On the other side of the ball, the defense shined through, not giving up a score in their first half of play. The Mustang offense was pounding the run game and the Spartan defense held tough through the first half. The closest Mountain Range got was a missed field goal in the first half.
In the second half the Spartan defense continued to hold tough with cornerback Daniel Sandoval intercepting a pass at the 4-yard line 5 minutes and 50 seconds into the half.
Story continues below advertisement
However, the Spartan offense continued to struggle, going four-and-out after the momentum boost by the interception. Mountain Range then had a short field to score and ended up scoring a rushing touchdown with 41 seconds left in the 3rd quarter.
The Spartan offense continued to not help out the defense going 4 and out once again. The Mustang offense gained possession of the ball with 11:40 left in the game. Mountain Range then held onto the ball for an 8-minute drive resulting in a field goal, putting the game out of reach with about three minutes remaining.