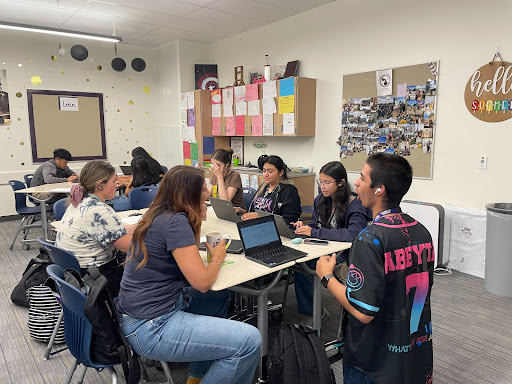 The Greeley West yearbook staff is excited to share their hard work with the student body at the end of the year.  In order to make sure that the most students possible enjoy the book, the yearbook staff is working to make it more inclusive this year.
Last year, the yearbook failed to include the Greeley West office staff and lunch ladies. Yeaerbook Sponsor Ms. Brianna Tanner explained that one of their main goals this year is to strive for more inclusivity and not leave anyone out. "We plan on making changes to this year's yearbook by looking out for past mistakes. We want more coverage of kids," Tanner stated. 
Tanner's message has been heard loud and clear by her staff.  Yearbook member and senior Rylan Gracia believes that it's important for members to include pictures of everyone, and not focus on themselves and their friends. "Sometimes, we could get caught up and give ourselves a little more shine, but it's important to give everyone else the shine that they deserve," Garcia stated. 
Yearbook staff members still get the opportunity to share their own personalities on the annual, while covering events around the school.  Yearbook sophomore Aaliyah Delimorah shared that staff members work collaboratively as well as individually. "We get to add our own ideas; we are able to have our own pages and decide how to design them," Delimorah stated. 
Story continues below advertisement
Tanner has taught the Greeley West Yearbook class for three years and thinks she gets better at it ever year.  Tanner is excited to express the Greeley West Spartans this year with new themes and unique written articles.  Because of Tanner's leadership, yearbook students are submitting their photos to contests outside of just the publication of the yearbook.