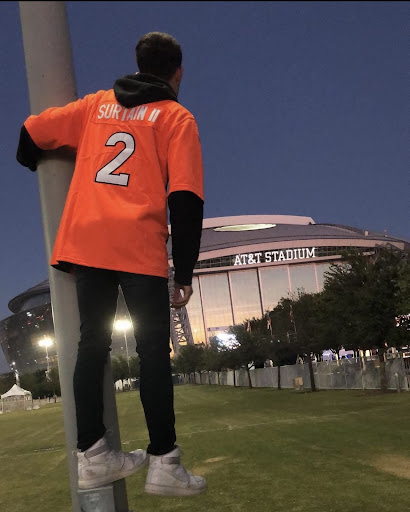 Meet the biggest Broncos fan, senior Zaren Maldonado.
Many fans are excited to watch their favorite team compete this season with the NFL season approaching, Maldonado outdoes them all. 
Maldonado posts at least five times a day to Instagram sharing his observations about the Broncos.  He has many different player jerseys and has traveled out of state to watch the team play.  He didn't admit to us, but rumors suggest he cried when Russell Wilson was traded to the Broncos.  He loves the team, so his opinion on the upcoming season counts.
He has high hopes for this season as Sean Payton is the new Broncos head coach. He believes the Broncos finally hired a good head coach who knows what he is doing. Nathaniel Hacket was a big flaw for the Broncos last season, not making the correct calls. He believes the Broncos will have a better record compared to last season's record "Probably Sean Payton, I think he can bring a lot to the table, obviously Nathaniel wasn't it, which was our biggest flaw in the head coach positioning," Maldonado said. 
Story continues below advertisement
High hopes were expected last season, but as we all know, the Broncos were a disappointment. Maldonado puts a lot of the disappointment on Russell Wilson. He had high expectations coming from him to lead the Broncos, especially for what the Broncos gave up to acquire him.  Maldonado expected a winning season from the Broncos. The Broncos ended the season with a 5-12 record, last in the AFC division. "Most definitely Russ, when you trade for a guy like that expectations go to the ceiling right away, a 10-12 win season, but we ended with like five wins," Maldonado said. 
No matter what, Maldonado will always support the Broncos. Growing up in a Broncos household played an influence on him picking the Broncos as his team. He has experienced everything as a Broncos fan. From the joy of winning Super Bowl 50, to losing to the Ravens back in 2013 in the AFC division round. The joy the Broncos bring to him is something he enjoys about the team. Gameday unites his family, all get together to watch the Broncos play, and when the outcome is a win, the feelings are even better. "I'm sure my family gonna have a Broncos party for the Jets and Broncos – invite everyone over. It's good vibes," Maldonado said.