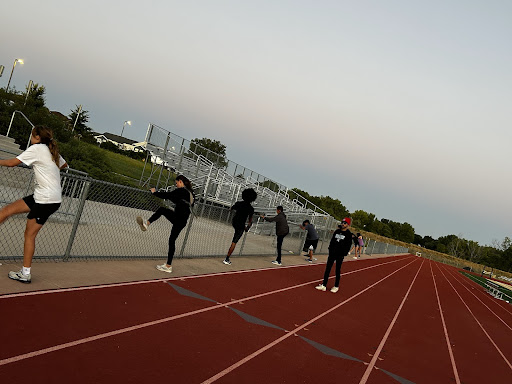 As the sun sets on summer and fall's crisp air descends upon Greeley, the members of the Greeley West cross country team are lacing up their running shoes and looking ahead with excitement to the highly anticipated Liberty Bell meet. This year, the team is poised for success, with a new coach and a new strategy for the team.
Senior Olivia Ruiz, a key figure on the team, shed light on what makes the Liberty Bell meet stand out. "For Liberty Bell, there tends to be a lot of schools from out of state because it's a really big meet," Ruiz said. "People like it because you can get really good times because the course tends to be easy, and it's early in the day so it's colder outside."
Ruiz, who had an exceptional performance last year, is looking forward to replicating her success.
Ruiz aims to replicate her impressive performance from last year/  She emphasized the team's new strategy of running together to foster cohesion and motivation. "We've done a lot more longer mileage, like Saturday we ran nine miles so that we could be a lot more conditioned," Ruiz explained, highlighting the team's dedication to their training regimen. She also noted that the rivalry between Greeley schools adds an extra layer of excitement to the competition.
Story continues below advertisement
Senior Lenna Martinez, another talented member of the team, expressed her hopes for the Liberty Bell meet, saying, "I hope I can cut my time down, because the meet is mostly downhill."
Martinez stressed the team's rigorous training, especially after a week without a meet. She also stressed the importance of running against rivals. "Obviously Greeley schools are the ones that we have the most competition with," Martinez said, emphasizing the friendly but fierce rivalry among local schools. She mentioned Esther Palacios, a teammate, who has been putting in extra effort to improve her performance.
Eric Puente, one of the top male runners, is determined to lead the Greeley West team to success. "My hopes are to be the first-place boy in the Greeley West team again," Puente said confidently. 
Puente elaborated on the team's training regimen, which includes longer mileage to boost endurance. "We are definitely looking forward to competing against our other Greeley schools," he added.
As the Liberty Bell meet approaches, the Greeley West High School Cross Country team is poised for an exciting weekend of racing. With their unwavering dedication, innovative strategies, and fierce determination to outperform their local rivals, these athletes are prepared to leave their mark on the course and set their sights on a successful season ahead.