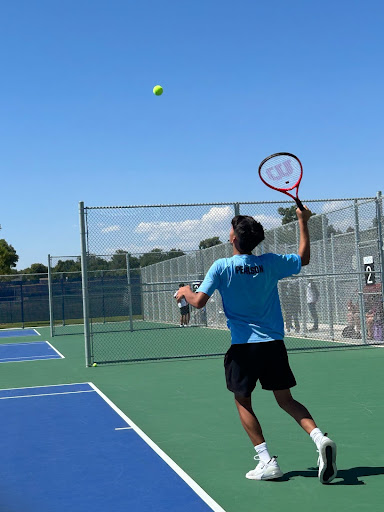 You may have noticed by the traffic, the parking, and the fact your friend is missing from class todady that the Greeley West boys tennis team is hosting the annual Greeley West Tennis Invitational today through Saturday.
The Spartans have had a rough season so far, posting a record of 1-5 with their only win being against their crosstown rivals the Northridge Grizzlies yesterday. In singles, the team is 7-9 with freshman Emmit Richardson posting a singles record of 5-1.  On the other hand, the team's doubles groups are 6-10 with their best doubles team of David Lovato and River Oritz being 3-3. 
Assistant Coach Jermi Redman expressed his thoughts on how the Invitational will affect the rest of the season. "There are some really good players here and some tough teams, so I think that the nice thing is even if we lose a match, we will get better because we are playing really really good tennis players," Redman said.  "It will effect us positively even if we lose," Redman said.
The tournament is spread out across Greeley with some of the best teams in the staten competing at the Centennial Tennis Courts and here at West. Last year, three of the top five teams in the state played in the tournament.  The tournament is a bracket tournament that guarantees three matches.  Doubles player David Lovato expressed how he thinks the rest of the tournament will help the team.
Story continues below advertisement
"You get a lot of matches and I think that it will help our season," said Lovato.
Doubles player River Ortiz agreed with Lovato's assessment.  "We're not gonna lose again," Ortiz said
Editors Note:  A previous verson of this story said the Greeley West Invitational was a Round Robin Tournament.  It has been corrected to "bracket tournament."  Context was also added to the competition level of the tournament.  We regret the errors.