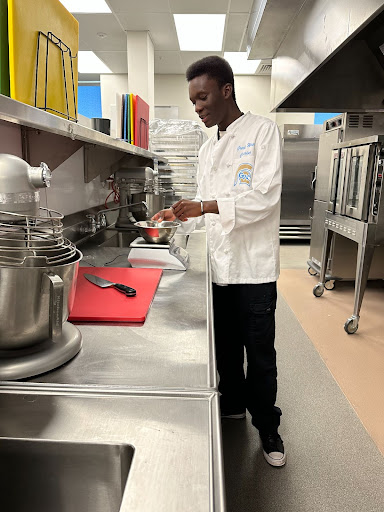 Greeley West senior Omari Edwards is known around the school, for being in student counsel, being a Link Leader, and playing sports.  But the thing Edwards wants to be best known for is, in his own words, "The best cook in the school." 
Many factors played a role in introducing him to cooking. His grandma was one of those factors. Seeing his grandmother cooking was fascinating for him as a kid, and like any other kid, he was curious about how to make a certain dish or about what was needed to prepare it. On top of that, he was interested in cooking shows. He found them to be cool and that influenced him to get into the kitchen with his grandma. "My grandma – she would be in the kitchen and I would ask her how to make this and she would just show me," Edwards said.
Entering high school, Edwards was introduced to many opportunities; the biggest was him meeting Food Science teacher Ms. Brenda Guzman. Guzman met Edwards through his AVID teacher, Ms. Julie Hagemeister.  She had disovered his interest in the culinary field working on career and college research.  Edwards was soon placed in her higher level class as he passed the lower level class test. Since then, Edwards has been in her classes. "He was able to be placed in one of my classes after testing out of the lower level class," Guzman said.
Edwards is thankful for meeting Guzman. Edward has called her the "Culinary master" and "Untouchable." Guzman has helped Edwards in many ways, one of them being the opportunity to work with chefs in different restaurants in the community through her work-based learning class. "Everything I learned, I learned from her," Edwards said.
Story continues below advertisement
Edwards plans on going to Auguste Escoffier, a two-year Culinary of Arts school located in Boulder, Colorado. After school, he plans on being a chef or owning his own restaurant. Escoffier is known for helping its students with, find jobs in the industry. 
If you want to see more of Edwards' food, go check out his Instagram page, @omari_makes_food.