West teachers, staff share ideas for new school with architects
Hang on for a minute...we're trying to find some more stories you might like.
Large maps of Greeley West were spread out on tables, teachers shared their hopes and dreams for a new school, and plenty of optimism surrounded the library throughout the day on Friday, as teachers met with Adolf and Peterson architects in regards to the design of the new Greeley West building.  
Teachers gave up a planning period to share their design ideas with the architects.  Mr. Stephen Paulson said, "Basically, they asked what teachers, as well as students, would like to see in the new school while maintaining the past and bringing traditions into it to make it Greeley West."
It marked the most recent event in a race to build West since the 4C Bond passed in November.  The goal is to get a quick start on the project so as many students can enjoy it as soon as possible.
Late last year, District 6 selected Adolf and Peterson Construction along with Hord Coplan Macht as the general contractors, pending board approval later this month.
Prior to winter break teachers sat down together on the second part of the in-service day to discuss what they would like to see in the new school. With no plans made up yet, the brainstorm session was wide open to whatever one could imagine. 
On Monday, the Design Advisory Group (DAG) committee took planning on the road  and went on a tour of schools built by the same managing company to explore possible options for the new West. 
Ms. Kelly Stephens explained that, "Once the group met at 7 a.m. at West, we took a bus and went to each school, where someone would meet us, explain the school and show us around. It was really cool to see all the little details and character as well as the progressive stuff in each place." 
The committee itself consists of teachers, administrators, parents and district administration. Schools toured included, Brush, Wiggins, Riverdale Ridge and Severance, all of which have been built in the past two years.   
Office manager, Ms. Sasha Cahoon, who went on the tour from a different perspective as the office manager stated that, "The tours were very beneficial because a lot of what we saw will be put into the new school here."
Just like kids in a candy store, that same excitement can be found when the vast possibilities are discussed for the new school. While Cahoon could go on for hours discussing the cool things that were seen on the tours, her favorite parts she would like to see included at West were "open areas such as a gym with a track above, a safe front office and all the windows with natural lighting."
As the plans for the new school continue to progress, all ideas will be taken into consideration and the process of thoughtful discernment will commence, with the goal of best suiting everyone's wants as well as needs.
About the Contributor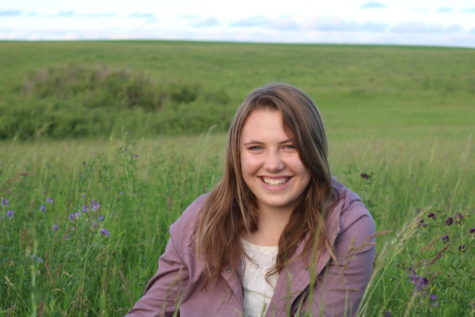 Kathryn Broderius, Managing Editor
Kathryn Broderius is a senior at Greeley West High School. She enjoys being involved in school
activities and clubs, including FCA, FFA, NHS and STUCO....