Who at West Wordles?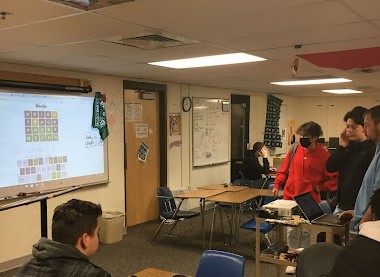 One thing is clear, students and staff all over have now fully immersed themselves in the digital world, including here at Greeley West. With picture sharing, communication, and entertainment all at the fingertips, the new game Wordle is quickly becoming a favorite amongst staff and students.
Wordle is a digital game that allows players to guess a five letter word each day, with six attempts during the match. Players get feedback with each turn about which letters are correctly placed and included in the daily word. This game has quickly gained attention, and many students here at West are enjoying the puzzle-style game.
Sophomore Theodore Hirsch has joined the legion of fans online.  "I just recently started playing the game and it has become so addictive," Hirsch said.
The words that the game provides are not the most conventional, creating a challenge for the players when trying to solve for the word. "The words are definitely ones that I don't use in everyday life, and so I think the game has helped me in growing my vocabulary," Hirsch said.
Although teachers are typically opposed to general cell phone usage, they have also started playing this game. Many feel that it is a way to get the brain going in a quick way. The game has also helped students grow vocabulary with newer, unconventional words. Government teacher, Mr. Ky Dietz said, "From a teacher standpoint, I think that the game provides students with a quick and easy way to get their brains working at the start of every day."
Although the game acts as a challenge for many, it also provides families the chance to do something together every day. "My wife and I have loved playing the game together every day. In fact, she was the one who introduced me to the game, and we have played every day since. Wordle has become a fun way to challenge each other and create our own competition," said Dietz.