Orchestra class attends multimedia string performance
Greeley West orchestra students missed part of their second period class on Tuesday morning to experience "For the Trees," an immersive experience featuring the Ivalas Strings Quartet.  
Environmental science students also attended the performance.
The story is a multimedia presentation based upon "Big Lonely Doug," a lone Douglas Fir in a Canadian rainforest. It is a 250 foot tree which was the only tree left from deforestation. The story was made to raise awareness about deforestation and its environmental impact. The presentation features many different elements of media, including images, live music, and more to tell the story of the "Big Lonely Doug".
The Ivalas Strings Quartet are made up of prestige musicians from the Julliard School, known to be the best performing arts school in the world.
Orchestra instructor Mr. Thomas Nugent wanted his students to take away many major components from the presentation. Nugent said, "I want students to have appreciation for this level of music as we had world class musicians performing."
For his own orchestras, Nugent wanted students to see how all of the parts of the performance came together.  He said one of the big takeawas from the performance was "the importance of collaboration and the impact it has on any given situation."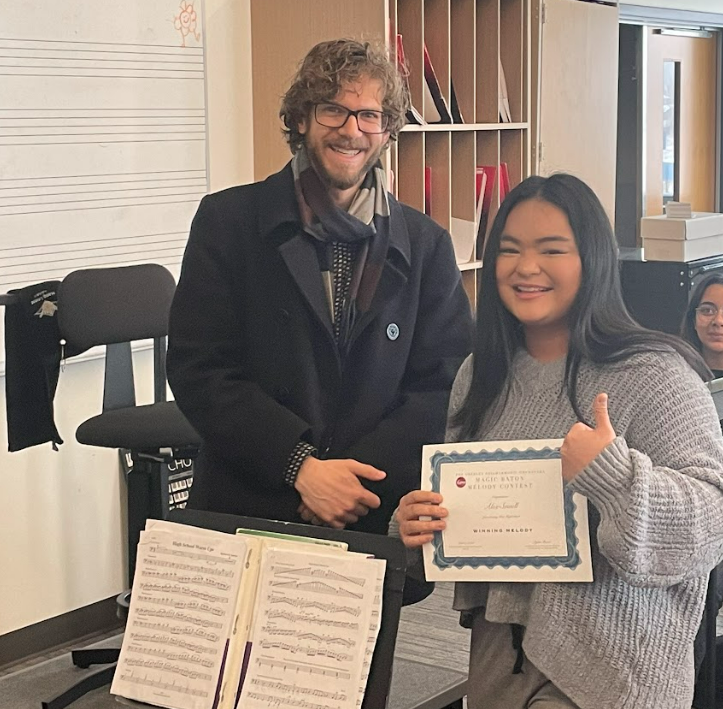 In other Greeley West string news, sophomore Alexandria Sewell won the Greeley Philharmonic Orchestra's Magic Baton High School Composition Competition. Her original song will be performed by the Greeley Philharmonic on May 20th at the Union Colony Civic Center.
The competition made students compose their own song. Sewell's was a hit.  "With the help from the director, I just got a hang of it," Sewell said. "I was very surprised to win the award, as I didn't expect to win anything during the competition."