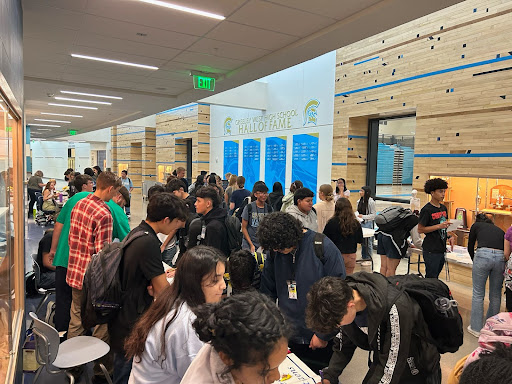 Clubs are a huge base for a full experience in high school. Greeley West is hosted its annual Club Rush on Wednesday.
With over 2,000 students at school, clubs are excited to get more involved around Greeley West and the community. 
One of these clubs is Mexican American Studies Society/LULAC, who was started off as a branch off the UNC class Mexican-American Studies. The club started by former Spartan – now social studies teacher –  Ms. Izbeth Pacheco is one of the more popular clubs due to the huge presence of Hispanic students at West.
Pacheco was excited about the opportunity of meeting new freshmen and getting new potential members. "I'm excited to see the new faces. A huge majority of the students at West are Hispanic/Hispanic-American, so this club is a great way for students to connect with each other and other students that have common interests with them." 
Story continues below advertisement
Contrary to the name of the club, Pacheco reassures that the club isn't exclusively for Mexican-American students. "Students of all backgrounds are welcomed to the club if you are interested. The club is a friendly environment and whoever drops by will always be welcomed to join in on what we're doing."
Another club that was excited to recruit some underclassmen to grow under the seniors and juniors wings is robotics club. Robotics coach Tristen Vangilder wants to refresh the team with youngsters willing to continue to team. "We have one competition team and they're veterans. There's three seniors and one junior so my hope is to build a younger team that can take over the next few years," Vangilder said.
Vangilder has optimistic views for the season as he wants to compete for the world championship and compete beyond the state championship. "My older team's going to travel to Dallas and Canada and also be able to obtain thar state championship and add another trophy to the cabinet," Vangilder said.
Greeley West is always hoping to see growth within the clubs at school with the sucsessful turn up during club rush.